Features
Bayside School students to showcase works in Fine Arts Gallery
17th November 2023
Some 58 Bayside School students will be exhibiting their works in the Fine Arts Gallery as from Tuesday.
Over 160 pieces will be on show and students have selected some of their best works for the exhibition with each submitting two or three pieces.
The walls of Fine Arts Gallery will be lined with some of the best works from the GCSE and A Level students, who have crafted the pieces during their studies.
The works of four alumni students will also be on show and the exhibition has been organised by teachers Karl Ullger, Patricia Imossi, Chris-Anne Ullger and Nadyle Garcia, Learning Support Assistant Germaine Warwick and technicians Karina Cooper and Lee Fa.
Sat in the Bayside School art room the some of the students exhibiting their works gathered around with their courseworks to discuss the upcoming exhibition.
Year 11 students Julianne Podesta, Aimee Linares and Ruby Randall will be sitting their GCSEs next year and have all focused their works on Gibraltar's urban landscapes.
Julianne took inspiration from the works of contemporary artist James Kroner, which she incorporated in the development of her ideas.
Aimee has focused on painting dark toned pieces of Gibraltar's Upper Town and was inspired by the works of Korean artist Kim Cogan.
"I focused more on darker areas because I usually when painting or just doing art, I go really dark and I have a weird understanding from middle tones and light tones," she said.
"So I did darker pieces, and my final one was quite dark."
Ruby has submitted three pieces, with her largest artwork around 1.60m tall.
"That took ages. It took all of summer and I've been working with more an impressionist style and realism of like the Renaissance kind of era," Ruby said.
She took photos of the Upper town area and focused on an image of a paint splattered trousers hanging to dry on a patio.
"I kind of feel like it tells a story," she said.
She added: "I didn't know where I was going, and then I ended up here, and I was like this is a good picture."
Year 12 students Nathan Vaughan and Julia Georgiou are in the first year of their A Level, with Julia submitting her portrait pieces into the exhibition.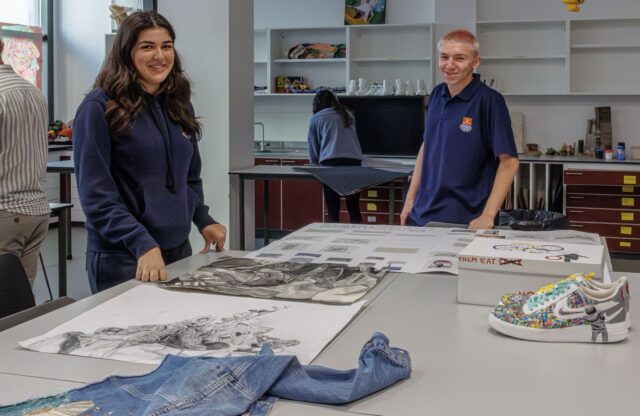 Her work looks at different generations of families and women, and she was inspired by Gustav Klimt's 'The Three Ages of Woman'.
Sweets are the focus of Nathan's works, with paintings of well-known sweets like drumsticks and lollipops.
"I struggled to find a piece to start doing, and then my teacher gave me a suggestion because every lesson had a different type of sweet, so she suggested, why don't I draw the sweets?" Nathan said.
He's submitted two pieces, and both are looking forward to showing their works on Tuesday.
Year 13 students Mia Camilleri, Idan Khimich, and Anna Byrne are in the final year and working on their 'personal investigations' for their art A Levels, an analysis of artist approaches or any artist.
Idan has been working on pieces centred on urban environment in relation to lighting, and his style closer to realism.
Mia studied textiles instead of art for her GCSEs, but moved over to art for her A Level.
Keeping true to her textile roots she's merged this in her artworks. Her projects focus on relationships and family, and childhood memories.
Mia has always enjoyed art and remembered drawing sat down outside in her balcony.
"[Mum and dad] would put always me on the balcony with a table and tell me to draw," she said.
"So I've always been interested in art, but then once I became a bit older, I got watched in clothing and fashion, and then that's when I started realizing I like that bit more."
She hopes to study fashion communication in University.
Anna has also grown up enjoying painting and sketching.
"I've always done art all my life because my grandparents always loved art," she said.
"My family are very creative, and they got me into art, and now for my personal investigation, I'm doing about my grandfather, who is one that basically got me into art that has Alzheimer's, and it's very personal to me," she said.
The Bayside School Art and Design exhibition will launch on Tuesday evening at the Fine Arts Gallery, after which the exhibition will be open to the public for viewing.