Local News
First GCSE co-ed class celebrates exam success
24th August 2023
Youngsters across Gibraltar on Thursday celebrated their GCSE results, being the first cohort of students to sit their exams and begin their secondary education in a co-ed setting.
The boys and girls at Westside School, Bayside School and the Gibraltar College had plenty to celebrate after receiving their results by email early in the morning.
At close to 4pm, GCSE results for this year were published by the Department of Education, which stated students achieved a 99% pass rate, equivalent to A* to G grades, across for Bayside School, Westside School and the College.
Of the 2944 grades that were awarded at the schools, 2906 of these were awarded 9-1 grades, equivalent to A*-G grades.
There were concerns that Gibraltar's youngsters would not achieve the grades they were hoping for after reports that emerged from the United Kingdom that said the number of top grades awarded would fall in comparison to previous years.
A fifth of Gibraltar's top grades (20.8%) were awarded top grades of 9, 8, 7, which was slightly lower than the UK's average of 22.0%.
The standard pass rate for Gibraltar was 64.9% for grades 9-4, which was equivalent to A* to C.
The proportion of entries getting at least a 4 or a C grade, considered a "standard pass", was some 3.3% lower than the United Kingdom's pass rate of 68.2%.
But according to the Department of Education, it is "vital" to report on the 9-1 (A* to G) as the pass rate as opposed to the traditional A* to C or 9 to 4 benchmark.
A total of 614 top grades of 9, 8, 7, replacing the former A* or A grades, were awarded with 325 top marks awarded to Bayside School pupils and 289 top grades obtained by students at Westside.
Students attending the Gibraltar College attained 138 pass grades out of a possible 165, representing an 84% 9-1 and Distinction* to Pass, pass rate.
"We take this opportunity to point out that the Department of Education feels it is vital to report on the 9-1 (and A* to G) pass rates as opposed to the traditional A*-C (or 9-4) benchmark," the Department of Education said in a statement.
"It is important for pupils, parents, prospective employers and members of the public to recognise that every grade is valuable in the context of each young person's education." "Every grade attained by our pupils during their examinations represents a milestone in their learning journey and it is critical that we celebrate the successes of all of our students and their grades."
"Moreover, a young person's successes are measured by much more than just their exam results today."
STUDENTS
Students across the three schools were looking forward to celebrations of brunch with families, beach with friends and a students' party at Boyd's to celebrate their success.
Many were up early in the morning anxiously looking at their phones waiting for emails with the results to come in.
Bayside School's Gino Ochello proudly displayed his results on his arm.
He said he is leaving Gibraltar in two weeks to go to ArtsEd in London to pursue his further education in musical theatre.
Having chosen Sociology, Music and Triple Science for his options, he was very pleased with his results.
"I have been in GAMPA since I was a little child and I realised I wanted to do musical theatre, it wasn't just a hobby for me," he said.
"I ended up going for auditions during my GCSEs and ended up getting in and doing very well for my GCSEs as well."
Gino felt that his cohort were "the guinea pigs" after the exams returned to pre-pandemic standards, which made him worry over the outcome of his results.
Kaylum Davis, of Bayside School, received mostly 6s for his exams, and was grateful to the teachers who were helped him get through the process.
"I got a lot of support from the teachers and they made sure that I did well," Kaylum said. Going forward he is looking forward to picking PE and Food for his A-Levels.
Quentin McGlashan, of Bayside School, told the Chronicle he received two 9s, four 8s, one 7 and a 6 for his GCSEs, having chosen Business Studies, Geography and PE as his options.
He is looking to continue with these subjects for his A-Levels, as well as a Science.
"I found the exams went relatively well, I wasn't really that nervous doing the exams," he said.
"I was nervous about collecting my results but also very excited."
Quentin said he was looking forward to celebrating with his friends on the beach later in the day.
Tianne Payas, of Westside School, said she was "over the moon" with her results, having sat the core subjects as well as Geography, Sociology and PE for her GCSEs.
Looking ahead, she is hoping to sit Biology, Chemistry and Maths for her A-Levels, with the prospect of going down the Chemistry route in the future, or law.
"The GCSEs were quite stressful to be honest," she said.
"I put in a lot of work and it has paid off."
"I was very nervous about receiving the results after seeing on the news that there were going to be fewer top grades and stricter boundaries."
Charlize Buhagiar, of Westside School, is looking at a future career in Medicine, having received seven 9 grades, two 8s, and an A*.
"I did very well and I am quite proud of what I achieved," Charlize told the Chronicle.
"I hope to pursue a career in medicine, and I wanted to Biology, Chemistry, Psychology and Dance."
"Hopefully I get the grades to be able to get into a university to study Medicine."
Charlize described her experience at Westside School as "great", and was grateful to the teachers for their support and help.
At the Gibraltar College, Aiesha Ocaña received a Pass in Marketing and Distinction in Health and Social Care.
"Now that I have six GCSEs it means I can apply for a good job, and I like working with kids so hopefully that is something I can do," she said.
Chloe McCarthy, of the Gibraltar College, sat the City and Guilds Level 2 technical course in Hairdressing.
This means that she will now be able to work as a young stylist at her job in Mayfair on Main.
Chloe was set back by a year after not enough students signed up for the course, so she spent that time focusing on her AS-Levels, but was happy to be able to sit the course of her choice this year.
"I found it very eye opening, and I am very happy with my results," she said.
"I learnt about the internal structures, learnt about the scientific side and went on to doing the practical side, really enjoyed that, I have clients in my chair now, clients congratulating me today for passing, and this is just getting me ready to take the next step which is level 3 in September."
"I have always liked hair and I spent a lot of time with my nan and play hairdressers, and when she was asleep a couple of times I would cut her fringe off."
"I was always drawn back to hair just because my family has a lot of history with hair due to cancer, with wigs."
"There is always something that pulls me back to hair, maybe it is the creativity but it has got me there, I have seen I am pretty good at it and I am sure I can make a living out of it."
TEACHERS
Senior teachers at the three schools were on hand to celebrate the students' achievements and to lend a supportive ear to those who fell short of the results they wanted.
For teachers themselves, this was the second year that their students were able to sit exams after two years worth of teacher and centre assed grades during the Covid-19 pandemic.
But much like the A-Level results delivered last week, the grade boundaries this year were much higher with concerns over the impact this would have on grades locally.
This was also the first time that the youngsters were sitting their exams having experienced their entire secondary education in a co-education setting.
Gaynor Lester, Headteacher of Bayside School, told the Chronicle the youngsters did "very, very well" this year.
"Once again we have a lot of success stories, and young people who have absolutely astounded us and done very well so we are very happy," Mrs Lester said.
"There have been a few students who have done very well and have an excellent set of grades."
"And then there are young people who have excelled in whatever subject they were particularly good at."
"Generally we have seen a good set of grades overall, and we have seen a lot of those 3 grades transformed into 4s, which is a pass."
Mrs Lester told the Chronicle that although this cohort of students were "equally" as affected by the Covid lockdowns as last year's, there were concerns as exam regulators announced they would return to pre-pandemic levels of assessing the work.
"The grade boundaries were higher and their exams were assessed on a pre-pandemic level, but the fact that they have done as well is commendable," she said.
"We have seen less top grades, generally, which is the same as the UK, but we have seen more 6s (equivalent to a B grade), which is pretty good."
"We have noticed our pass rate is also higher than when we just had boys, but some of the students who have done excellently have also been boys."
"Teachers have taken the exams in their stride and I am extremely proud of how hard the teachers have worked to help the children maximise their potential," she added.
Michelle Barabich, Westside School's outgoing headteacher, said she was very proud of her students.
"This cohort has faced its own challenges, but most importantly, we have focused since they came in on their journey," Mrs Barabich said.
"What we have realised is that that hard work and that support has paid off."
"Some of the students have received tremendous results, and it is important to recognise the students, the teams and the support that has been put in place."
There were many students who required more help or required special educational needs and reached out to Westside School's Learning Support Facility who have done "brilliantly", Mrs Barabich added.
There were also a "record number of students" who required additional support during the run up to the exams.
"The grades from the pandemic year have dipped, but we have maintained very high standards and therefore we are very proud of that," she said.
"Even though we are talking about co-education, we are focusing on students regardless of whether they are boys or boys, we have put strategies in place that will motivate them and students always come first."
"What we have seen is that they have got through, they have met their requirements and got their grades, so therefore the cohort going into A-Levels is very large and with a wide range of subjects to choose from across the three institutions."
Gibraltar College Principal, Michelle Soiza, told the Chronicle her students received results for their Level 2 GCSEs as well as the Level 1, pre-GCSE.
"These statistics show the progress the students have made, and if we look back at when they first started with us in September and the results they have achieved this year, we have seen the academic progress they have made and what brings as well," Mrs Soiza said.
"We have seen an improvement in their level of maturity, in confidence, in their life skills and we are very proud of them as well."
"And what this means for the students as well is that they are able to progress to employment or to A-Levels, so it gives them an opportunity to progress further."
The College has seen students excel in new subjects such as enterprise and marketing, health and social care, and a certificate in hairdressing, as well as many who resat their English and Mathematics.
With the opportunity to sit vocational subjects at the College, Mrs Soiza said many students are able to "reflect their abilities better".
Director of Education, Keri Scott, attended the three schools to congratulate the students in the morning, who she said has done "brilliantly".
"This is our first co-educational cohort and for us this is a big milestone," Ms Scott said.
She added that from a social perspective, from an integration and reflection of a school being a microcosm of society, this was the "right" decision to implement co-education in Gibraltar.
"In terms of identity, concerns or queries a lot of young people have been facing in the past decade in terms of gender, determination of gender, sexuality, and everything that comes up with developing yourself as an adult, I think having single sex schools perhaps made those distinctions more marked for individuals that felt different," Ms Scott said.
"I think the more inclusive representation of society at school helps young people no matter what their beliefs are, no matter what their values are, feel like they belong, and I hope that is what we have achieved."
"I think most definitely it was a move that we had to take and I think that the vibrancy of the schools, though they are different, has been a very brave move."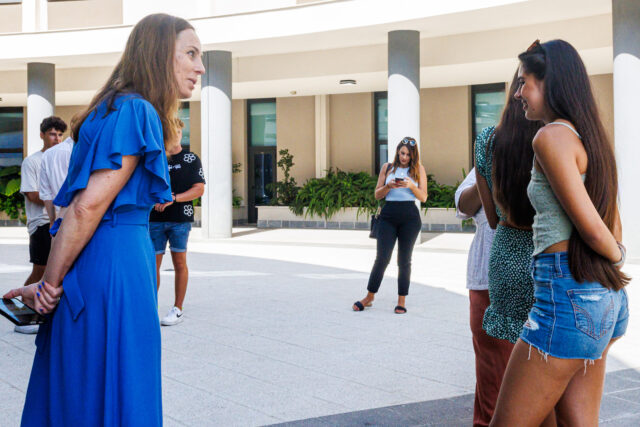 Ms Scott told the Chronicle the Department of Education will begin a detailed analysis on the exam results, to help them explore the pupil and school's performances.
"With regards to pre-pandemic levels, we have just about held on to more or less the same levels of percentage rates," she said.
"The size of the cohorts are different, but we might have a smaller number of top grades."
"This is a much wider and very complicated system on which they have been examined, so these need to be analysed better."
Minister for Education, Dr John Cortes, was delighted with the GCSE results this year.
"All of these young people have something to celebrate today and as they look to the bright futures ahead of them," he said.
"These last few years have been an unprecedented time for young people in education, and especially for those studying towards sitting exams."
"Our students have demonstrated a resilience, determination and character that cannot be captured by their results alone."
"I must also take this opportunity to thank and congratulate the teachers and other school staff who have gone above and beyond, and who share in today's success."
"I am particularly pleased to note the successful culmination of schools' hard work on the transition to a co-educational provision, and to see these first co-educational cohorts achieve in such positive ways, both within their examinations and beyond."