Features
St John's Ambulance mark birth of St John the Baptist with parade
6th July 2022
A celebration service for St John's Ambulance Gibraltar was held on the feast day of the birth of St John the Baptist at the Holy Trinity Cathedral.
A parade along Main Street was also held as was the investiture of Dolores Gaiviso where she was presented with her insignia.
The parade included members of St John Ambulance Gibraltar parade from Casemates Square to Cathedral Square.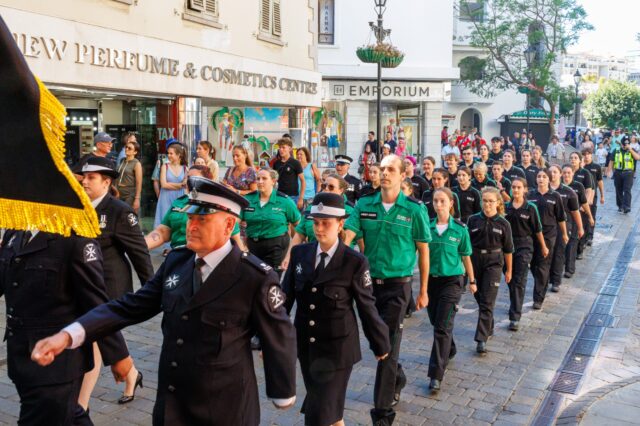 The parade was under the command of drill instructor Paul Baglietto and included the Colours of the Order of St John and of St John Ambulance.
The 40 strong contingent included Cadets and adult volunteers and were led by the Corps of Drums of the 1st/4th Scout Group (MMHO).
"It is believed this is the first time St John Ambulance Gibraltar Volunteers have marched on St John's day and it was the first time for the 1st/4th Scout Group Corps of Drums to parade in some 15 years," said Richard Labrador from the service.
Following the parade there was a service at the Cathedral of the Holy Trinity led by the Dean, The Very Revd Ian Tarrant and St John Gibraltar Chaplain Fr Danny Hernandez. During the Service Dolores Gaiviso was invested a Member of the Order of St John, the investiture was carried out by Leslie Edmonds assisted by Mr Labrador.
Following the investiture Chief Minister, Fabian Picardo, presented the 10 year St John Service Medal to Sarie-Anne Ressa for meritorious service to St John Ambulance as well as numerous certificates to Badgers, Cadets and Adult Volunteers.
The Chief Minister gave an address, taking the opportunity to thank the St John Volunteers for all the work the perform, particularly patient transfers within Gibraltar and the Iberian Peninsula. He said he felt safe whenever he went to an event and saw the green uniforms.
After the service a reception was held at St John premises in Queensway.
"The Council of St John Association for Gibraltar were very thankful to all those who in one way or another contributed in making the occasion a success, in particular the Dean for his support and the 1st/4th Scout Group (MMHO) for providing their Corps of Drums," said Mr Labrador.