Features
Cane-Yo collective holds new exhibition in Fine Arts Gallery
14th September 2023
By Gabriella Peralta and Eyleen Gomez
Ace Art founder John-Paul Bautista opened an exhibition from the Cane-Yo collective called 'Rock and Paper', featuring over 20 artists from countries such as Malta, Germany, Argentina, Brazil, and Spain.
Local artists, husband and wife Karl and Chris-Anne Ullger's works are exhibited in the Fine Arts Gallery next to international artists Aimee Zia Hassan, Ale Casanova, Alex Wilby, Caroline Birkel, Diocles Laime, Dylan Sarabio, George Rupplet, Hugo Saliente, Jesus Jimenez, Luca Raven, Manuel Castillero, Nadine Tralala, Natalia Tomas Segovia, Nicole Sciberras Debono, Peter Salmi, Sara Gomez, Saskia Widdison, and Shanice Farrugia.
The pieces from the artists in this exhibition are all figurative, as part of Cane-Yo's framework, with the launch event including music provided by @djrawly and wine provided by the Wine Shop.
Mr Bautista opened the event and commented on the high level of talent the artists have shown.
Mr Ullger is part of the Cane-Yo collective and for him this exhibition marked a chance to meet some of the artists in person after knowing them for years online.
"We are very proud of us with regards to having the Cane-Yo artists here with us. It started just before the first lockdown that a lot of us connected… it has been a lot of sharing of emotions, of experience, and references as well," said Mr Ullger.
He recalled when he returned from another Cane-Yo exhibition in Belgium that Mr Bautista asked about bringing some of the artists here to Gibraltar.
"It's absolutely brilliant to have them on the Rock," Mr Ullger said.
He added that it was brilliant for them to all speak with each other in person after having doing so online since 2020.
"The connection, it wasn't physical, it's more just like talking and socially. There is a lot of criticism with technology and social media but, used in the right ways like I think what has happened here, is helpful, not only for the art world, but also for the public."
"Because Cane-Yo is not just about us. It's more about creatives in our community,"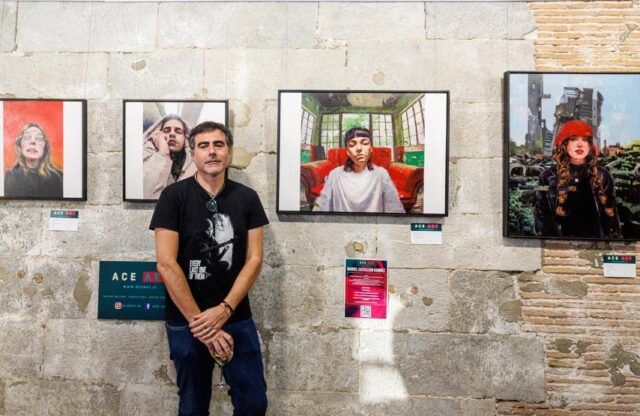 Manuel Castillero is an award-winning Spanish artist who was selected for the exhibition, and after his visit to Gibraltar he's indicated he would like to return.
"How the public have responded, the support from the authorities and the help of the Minister for Culture… but mostly the support from the public. Very warm and marvellous," he said.
He described himself as a painter, particularly of landscapes.
"I had begun to explore abandoned landscapes. I've examined the places I know, like Madrid's GranVia and Congress building, or the Palau de la Musica in Catalonia, and I've imagined them as if time had passed and humans were no longer around. Like a dystopian film," he said.
"I have always like the paintings by Friedrich and the German and British Romantics and their focus on ruins and decadence."
"I want to explore those themes, to bring that style to the present day, with a twist, introducing the human figure. Let's see how that turns out."
He is looking forward to an exhibition in Santander in two years' time, while he continues working with a number of galleries in places such as in Tangier, Madrid, Valencia and Granada.
"This year, I plan to visit Holland and, over the next two years, prepare a new and different body of work for exhibition. Well, not new, an evolution of what I used to do," he added.
His involvement with Cane-Yo started when he was introduced to the group by his friend, Samaria Tomas Segovia, who knew he wanted to perfect his portrait work and she convinced him to join.
Later, another colleague Jesus, talked him into it and he was bitten by the bug to paint.
"Frankly, it is one the best things to happen to me lately," he said.
He met Karl Ullger on Instagram, and they complimented each other's art.
"From there we began to collaborate, though it has to be said that I'd never met him in the flesh until now," he said.
"Today is the first time we've met face to face, up to now we've shared images or talked via Whatsapp or Instagram."
Contemporary artist Nicole Sciberras Debono form Malta flew into Gibraltar for the exhibition.
Through Cane-Yo she has met likeminded artists and has
"I think the fact that we have a community of networks worldwide helps us bring these art in different countries," she said.
"There's no way I would have come to exhibit in Gibraltar without Karl."
Miss Sciberras Debono completed her studies for law when she decided to switch careers and become an artist.
She has been a full-time artist since 2021 and is working on a new collection of work.
"I think it might be a little different to what I'm doing now but I do think that there's still going to be certain elements that are from my previous work in the sense that I think it's like a natural evolution of progression to what I was doing before and into the work that I'm going to be creating now," she said.
"I think that might be a bit more mature, especially since you're getting older, you start seeing things a bit differently. I think that in the past few years as well, my actual practice itself has evolved in the past three years."
"Actually knowing Cane-Yo as well, the growth was more than what I've learned from my previous years as a teenager to the past three years now that I've been pursuing it for this. So I think that the skills I've been getting at now should take me to my next work."
The exhibition at the Fine Arts Gallery will be open to the public until September 29.