Local News
After lightning visit, Princess Royal says 'it was a pleasure to be back' in Gib
20th November 2023
The Princess Royal said it was "a pleasure to be back in Gibraltar" as she carried out a number of engagements during a lightning visit before boarding a British Airways flight to London at midday on Saturday, less than 24 hours after she arrived in Gibraltar.
Princess Anne and her husband, Vice Admiral Sir Timothy Laurence, arrived in Gibraltar overland with several hours' delay late Friday evening after their plane was diverted to Malaga because of fog.
Princess Anne was in Gibraltar as patron of the Gibunco Gibraltar International Literary Festival, praising its "hugely impressive growth" over nine editions.
She acknowledged too the rise in the number of Gibraltarians writing about the Rock and how the Gibraltar National Book Council had become "a focal point" for all book and literary activity.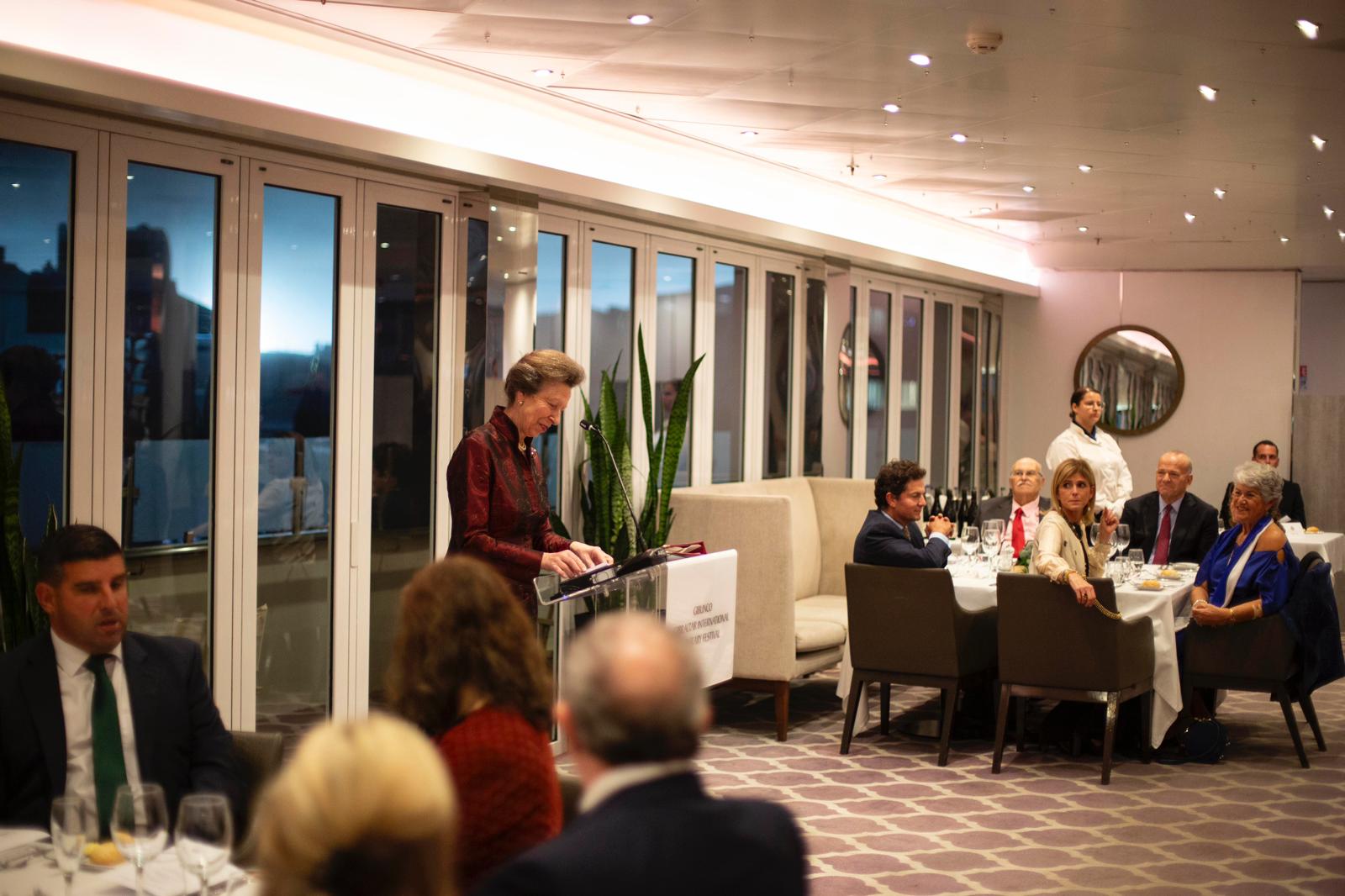 "I suppose, not so long ago, people thought that thanks to IT there would be no more books and there wouldn't be much point in writing them," she said, addressing the dinner guests.
"I think fortunately that has been proved categorically to be wrong and this festival has helped to prove that point and bring in a lot more people who really feel the importance of writing their own experiences, writing stories that have come to them and they want to pass on, and for young people to want to read them."
Princess Anne briefly attended a talk by Dame Mary Berry on Friday before being hosted by the Chief Minister, Fabian Picardo, at a dinner that same night on the Sunborn.
On Saturday, the Princess Royal, as Patron of the Citizens Advice Bureau, met staff at their offices, where she was welcomed by the Minister for Equality, Employment, Culture and Tourism, Christian Santos.
Princess Anne also visited the premises of the Royal Gibraltar Regiment Association, following a recent refurbishment, and unveiled a plaque to commemorate the event.
She also unveiled a plaque at the new Bassadone Motors showroom and workshop.
Prior to her departure from Gibraltar, the Chief Minister's children, Sebastian, Oliver and Valentina, presented the Princess Royal with a gift on behalf of the people of Gibraltar.
The gift was a solid silver set of the Keys of Gibraltar, identical to that presented to the Earl and Countess of Wessex - now The Duke and Duchess of Edinburgh - at the end of their visit in 2022.
The Princess Royal was accompanied to her departing flight by the Governor, Vice Admiral Sir David Steel, and the Chief Minister.